License and Standard
Quality Control
License and Standard/Quality Control
License
GMP licensed
Japanese Pharmacopoeia, adequate for United States Pharmacopoeia
Japanese Cosmetics Material Standard
Certificated by JHOSPA (Japan Hygienic Olefin and Styrene Plastics Association)
JIS K 1410
EU REACH
KOREA REACH
SNI(Standard National Indonesia) Licensed
Standard
HAKUSUI TECH CO.,LTD.
JIS Q 14001:2015
ISO 14001:2015
Kyushu Hakusui Corporation
JIS Q 9001:2015
ISO 9001:2015
HAKUSUI CHEMICAL
(THAILAND) CO.,LTD.
ISO 9001:2015
Zhenjiang Hakusui Chemical Co., Ltd.
ISO 14001:2015
ISO 9001:2015


Quality Control
Our 70 years of analysis knowledge / technique and various reliable analyzing machines
allow us to supply the assured products to our clients.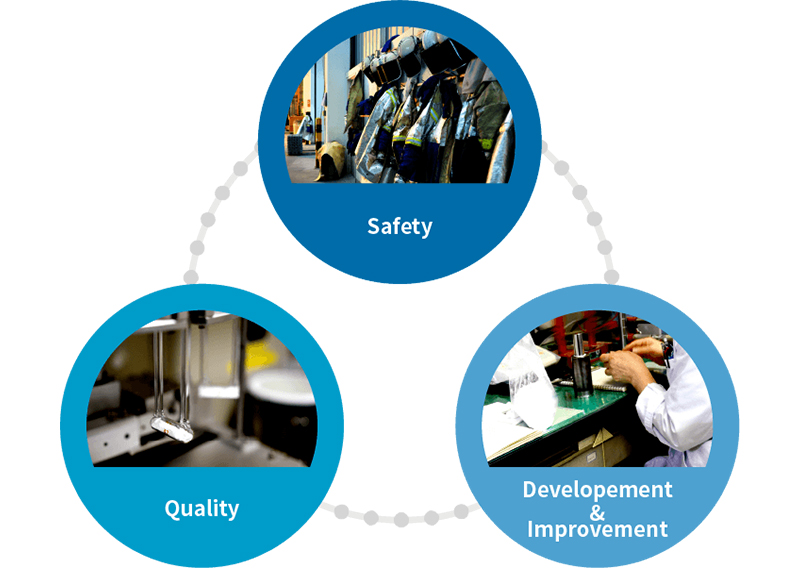 Analysis Equipment
Particle size analyzer, X ray fluorescence spectrometer, Scanning electron microscope, X ray diffract meter, Surface area analyzer, Thermal analyzer, Thermal dilatometer, Fluorescence spectrophotometer, Atomic Absorption, EDS
Research and Development
Major area of our R&D is to research the new function and develop the new applications of zinc and zirconium. The communication with clients are the key factor, so that we conduct various joint R&D in the field of rubber paint, ceramic, electric component, thin films, etc. We also conduct joint R&Ds with universities, which result in academic accomplishment published in Japan and other parts of the world.